MACRO MONDAY: Thriving Through Change
Dates: February 12, 2024
Meets: M from 10:00 AM to 11:30 AM
Location: ONLINE - Live
COURSE: $35.00
There are still openings remaining at this time.
Change is all around us and it can be disorienting, challenging, and emotionally draining. Yet, how your organization navigates change has the potential to bring great opportunities for growth and impact. This session will help participants explore the emotions of change and find ways to shape the path that moves an organization successfully through that change.
Objectives
Explore the change curve.
Learn a framework for managing change effectively.
Building skills for resilience to sustain change.
Notes:
SWCE Policies
Payment & Registration
Payment is due upon registration. If a participant registers for a course and has not paid the registration fee, we will send a reminder email to pay the fee. If there is no response and the fee has not been paid within 7 days, the participant will be dropped from the course and may re-register and pay if space is available. This policy is to ensure equitable access to courses that have high demand and long waitlists.
Registration Deadline: Three days prior to the program by 5pm.
Waitlist Policy: Our social work programs, excluding the DHHS programs, may fill up due to interest in the content. If the course becomes full, we will have a limited wait list. Those who get on a wait list for a course, you will be notified as soon as possible if a seat becomes available and payment must be made upon enrollment. When the typical registration period ends two days prior to the begin date, all those on the list will be notified we can no longer accept people into the class.
Cancellations:
Participants may cancel their registration at any time by calling our office at 616-331-7180 or emailing learn@gvsu.edu. Participants seeking a refund must cancel their registration at least 48 hours prior to the program. You may either receive a full refund back on your card, or we can place a credit on your account for a future program. Refund requests received within 48 hours of the program are not eligible for a refund. If GVSU needs to cancel the event, participants will receive a full refund.
Social Work Continuing Education Credits:
Participants seeking Social Work Continuing Education credits will need to arrive by the start time of the program, and must stay until the end. Partial credit will not be awarded.
Participants must complete the post-event evaluation to receive SWCE credit.
Certificates will be emailed to participants 1-2 business days after the program. Participants who have not received their certificate (and it is not in their spam/junk folder) should email learn@gvsu.edu.
Grand Valley State University School of Social Work, an accredited social work education program, is authorized by Administrative Rule 338.2965 to award Michigan social work continuing education contact hours.
| | |
| --- | --- |
| Fee: | $35.00 |
| Hours: | 1.50 |
| CEUs: | 1.50 |
Fee Breakdown
| Category | Description | Amount |
| --- | --- | --- |
| Fee | COURSE | $ 35.00 |
| Fee-Alternate | SSW Field Education Supervisor | $ 25.00 |
| Fee-Alternate | GVSU Faculty/Staff | $ 15.00 |
ONLINE - Live
The Zoom link for the course will be emailed to you two days prior to the event.
Tamela Spicer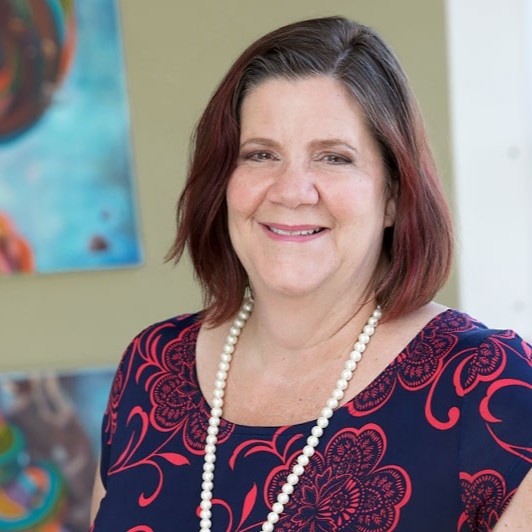 Having worked in the philanthropic sector for over 30 years, Tamela Spicer, M.A. seeks to guide sector leaders and organizations on a path to discover how they can work within their own ecosystems to catalyze change grounded in justice and belonging. Recognizing her own privilege as a white, cis-gender woman, she intentionally works to call out and help dismantle white supremacy culture and its power in the philanthropic sector and in her own personal life.